Return to Headlines
Transportation uses GPS to improve safety and efficiency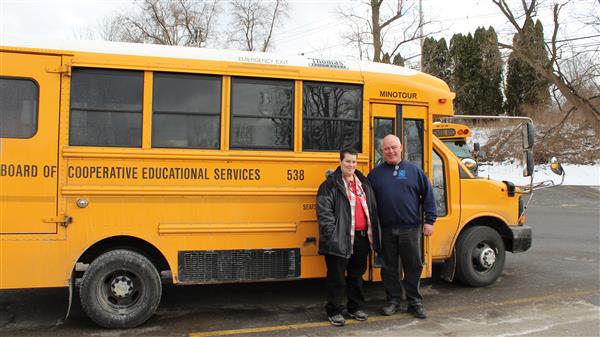 The Transportation Department has introduced a new way to address safety and efficiency at Monroe One BOCES. Starting this school year, all vehicles in the Transportation Department are equipped with the Global Positioning System, better known as GPS.

The GPS has helped to improve safety for students, drivers and other motorists. It can locate buses when a driver is lost or unable to explain their location in an emergency situation. This improves response time for medical emergencies, student misconduct incidents, accidents or vehicle breakdowns. The Transportation Department also uses the GPS to develop safe driving habits and reduce speeding.

"Safety is of the utmost importance in transportation," said Director of Transportation Paula Powell. "We use the GPS as a training tool, not a disciplinary tool, to improve safety and modify a driver's behavior when needed."

The GPS also helps the department when responding to questions from parents or the public. The GPS can verify when and where a bus has stopped to respond to calls from parents about their child's bus location and arrival time. It also provides documented data to respond to public complaints of speeding, reckless driving or causing an accident.

The Transportation Department has also seen a significant increase in fuel cost savings as a result of using GPS. With the GPS, the department can decrease unauthorized travel and reduce bus idling time to comply with state regulations.

Many years of research went into identifying a GPS that could best meet the needs of Monroe One. In 2016 and 2017, the Transportation Department began to examine the benefits of GPS by visiting Department of Public Works sites that use it and meeting with GPS vendors. They also met with the BUSS Union to discuss their plans and clarify any questions or concerns. Following their research, the Transportation Department completed a GPS pilot program during May and June 2018. The department tested GPS units from two companies by installing the units into a small number of buses in order to identify the best option for Monroe One.

"Given our success with the GPS so far, we're looking to incorporate it into our routing and billing systems going forward," said Bus Garage Manager Dan Graden. "The GPS can help our department keep up with the ever-changing bus runs that can differ every day and also be used as a way to improve our billing process."