Return to Headlines
EMCC students present project to industry insider
Two EMCC classes recently collaborated to complete a Six Sigma project, a problem-solving method used by many workplaces to solve real industry problems. After completing the project, the students in Len Hall's Automated Manufacturing & Machining class and Joe Alati's Collision Repair Technology class had the opportunity to present their projects to an industry representative.
For the project, the students were given a situation in which an airplane was missing its target and damaging the surrounding area. Students used the Six Sigma methodology to create a strategy to solve this problem and improve the process used to hit the target.
After completing several tests and collecting data, the students identified different ways to improve the current process. Then, the students tested their solutions to find the best way to improve accuracy of hitting the target and eliminate potential mistakes in the process.
"We were able to solve this problem by changing the technique in which we launch the airplane," said student Sam Levine (Webster). "After doing this, we were able to hit the target with the airplane without fail."
The students presented their projects to their classmates, teachers and Lean Six Sigma Master Black Belt Patricia Hill, a Xerox retiree. Hill provided the students with feedback and tested their knowledge about the Six Sigma methodology. Students earned a High School level Six Sigma Yellow Belt certificate for their work in completing the project.
"I learned that when solving a problem, there is not just one solution, there are many ways to solve it differently," said student Nick Micali (Webster). "It is very useful to have an understanding of Six Sigma because many workplaces use it."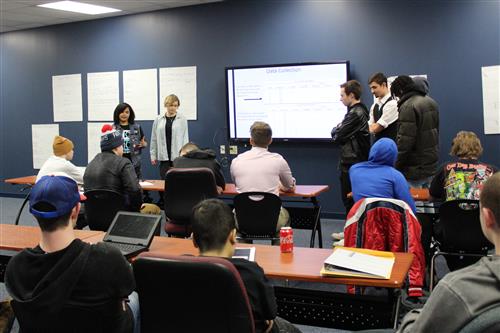 EMCC's Kate Levy, Special Guest Patricia Hill and EMCC teachers Joe Alati and Len Hall
Posted Feb. 4, 2019