Return to Headlines
School Health Services provides highest quality of health services to RCSD and other schools
Monroe One BOCES has been providing School Health Services (SHS) to the Rochester City School District (RCSD) for 15 years now. One of the most widespread services we offer, SHS was created through special legislation. The service is comprised of over 100 registered nurses, licensed practical nurses and school health aides that provide the highest quality of health services to 33,000 students in nearly 80 public, charter and non-public schools. Additionally, we have nursing services supporting our center-based programs at Creekside, Bird/Morgan, and the O'Connor Academy.
While much of their work is tending to the day-to-day needs of students, SHS staff perform student physicals and provide consistent updated information regarding OSHA regulations and New York State Education Department school health information to enrich school health. They also complete mandatory training including concussion management, asthma, and immunization data collection to provide comprehensive health services to students.
"In order for students to learn they need to be healthy; Monroe One BOCES School Health Services are providing quality health services to the students of the Rochester City School District," said School Health Services Coordinator Eileen Davis, BSN, RN. "Together we foster health and educational success of our students."
RCSD has established partnerships with many community agencies. Our SHS staff work collaboratively with these agencies to provide additional services to students, including school-based health clinics and the traveling dental clinic, Smile Mobile.
"The Rochester City School District is very fortunate to have a collaborative partner who works side by side with our administrators, teachers, and parents to better the well –being of our students," said RCSD Coordinator of Student Health Services Erin Graupman, MBA, BSN, RN. "Monroe One's School Health Service has encouraged a strong commitment to community partnerships which provide our students with the resources they need to stay healthy, in school and ready to learn. We are continually impressed by the professionalism they bring and the commitment to serve our district students and families."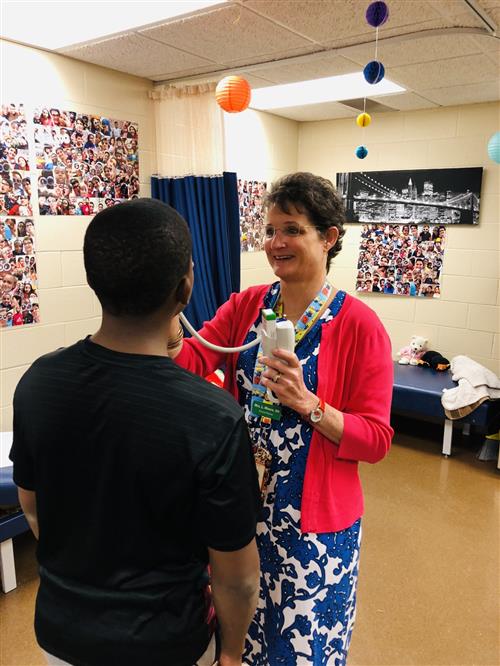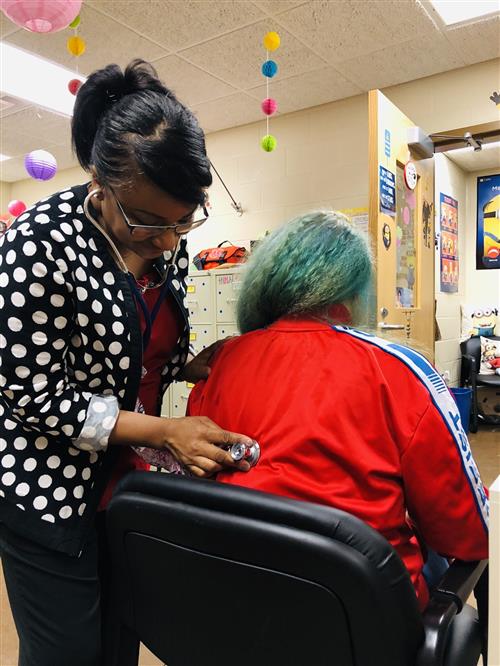 Photos: Louise Moore, RN, and Gloria Pellot, LPN tend to their students at RCSD School #77.