Return to Headlines
Monroe One closed on 6/20 in observance of Juneteenth
June 19 is a time to encourage conversation and to celebrate our differences. Known as Juneteenth, it is the oldest nationally celebrated commemoration of the ending of slavery in our country.
In 2021, the President signed a bill establishing Juneteenth as a federal holiday. Officially recognized as Juneteenth National Independence Day, it is the first new federal holiday since Martin Luther King Jr. Day was established in 1983.
As Monroe One and other area schools and businesses will be closed on June 20 in observance of the holiday, we wanted to take a moment to reflect on the significance of the holiday.
What is Juneteenth?
The name itself comes from the combination of 'June' and '19' to make Juneteenth. It is a day that commemorates the end of slavery and celebrates Black and African American freedom and achievements. It is also called 'Freedom Day' or 'Emancipation Day.'
Why June 19?
The Emancipation Proclamation was issued in 1863.​​
However, the system failed in getting the news to every enslaved person in the country. It would take two years before Union soldiers arrived in Galveston, Texas, arriving on June 19, 1865. Their arrival and reading of General Order Number 3 is when those living in the state finally learned slavery had been abolished.
How is it celebrated?
In 1865, it began with a spontaneous celebration of prayer, song, and dance. However, it is important to note that freedom was not immediate for many Black Americans. The real strength of the date came one year later, as newly freed men and women had a date to rally around as a grassroots effort to cause change.
Over time, the date became a widespread moment to reflect and attempt healing. It has grown into an annual tradition of speeches, educational events, family gatherings, and festivals. Some major U.S. cities now hold parades and festivals to honor the date.
What does the Juneteenth flag represent?
In 1997, a flag was created to commemorate the holiday and overtime became the flag you will see today. It holds many symbols and meanings. To begin, it uses the red, white and blue of the American flag to represent slaves and their descendants were and are Americans. The star and burst symbolize freedom and new beginnings, while the curve of the design represents a new horizon.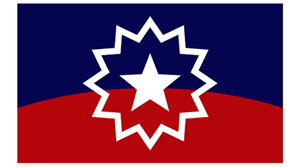 We invite you to learn more about the holiday by visiting Juneteenth.com/History