Julie Berry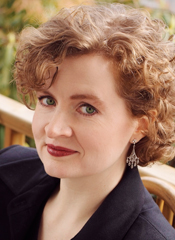 $2,000/day; $1,250 for a half-day plus little expense.
Virtual visits are $500.
Scandalous school visits including Conversation: Book Club Q+A for an up-close conversation with the author; Several workshops, including The Revision Show (ages 11 and up); Stretch Your Point of View (ages 11 and up). Assembly: Adventures with Books (Gr. 3-10) on where ideas come from; What six things every story needs; What Star Wars teaches about storytelling. Her latest books are mindfulness picture book Happy Right Now: The Night Frolic; and Cranky Right Now (Gr. K-3); middle grade novel Burglers and Bluestockings in the Wishes & Wellingtons series (Gr. 3-7); and historical YA novel Lovely War (Gr. 7-9). Young Adult novels include The Passion of Dolssa (set in medieval France (Gr. 7-9); The Scandalous Sisterhood of Prickwillow Place (Gr. 5-9); All the Truth That's in Me (Gr. 7-12); and Secondhand Charm (Gr. 5-8).
Grades 3-12
---