Kalli Dakos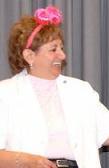 Mainly Virtual visits are $250 - $300, depending on number of students, classes, etc.
In-Person $1,600/day for 3 presentations; $1,300 for 2 pres., plus expenses.
Best-selling poet. Encourages reading, writing and performing stories, conducts writing workshops, and is available for evening presentations. Also, Goodbye Poems, helping children cope with grief and loss; and Poems About Covid-19. Her books include recent release, They Only See the Outside (Gr. 4-6) of insightful and relatable poems; My Story Friend (Pre-K–Gr. 3); If You're Not Here, Please Raise Your Hand (Gr. 2-5); Poems About School (Gr. 4-6); A Funeral in the Bathroom: and Other School Bathroom Poems (Gr. 1-4); and Our Principal Promised to Kiss a Pig (Gr. 2-5).
Grades 1–6
---