Matthew McElligott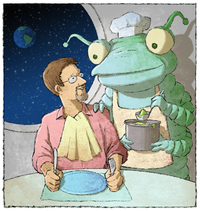 $1,850/day plus expenses (2-day minimum for the area). Will do evening events with parents and students of all ages.
Virtual visits $300 per talk with students grouped as below.
Programs highlight the process of writing and illustrating picture books, with a special emphasis on digital technology. Presentations for The Lion's Share (Gr. K-8) and Bean Thirteen (Gr. K-3) focus on math concepts. Author/illustrator of books, including his newest Do Not Eat the Game! (Gr. K-3); picture book series Mad Science Academy: The Ocean Disaster (Gr. K-3); the Benjamin Franklinstein LIVES series (Gr. 3+); Even Aliens Need Snacks; Even Monsters Need Haircuts (K-8); Backbeard and the Birthday Suit (K-4); and illusion book, Absolutely Not (K-3).
Grades K-6 (grouped K-1, 2-3, 4-5, 6)
Available January 2-12, 2024, and May 13 through the end of the school year.
---