Linda Sue Park—Local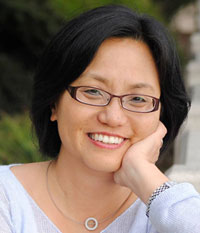 $6,000/day plus expenses for in-person or virtual visits.
Author, poet and teacher, Linda Sue's novel, A Single Shard (Gr. 4-7), is a Newbery Medal winner. Writer of popular novels and picture books, most recently middle-grade historical fiction Prairie Lotus (Gr. 3-7); Gondra's Treasure (Pre-K – Gr. 3); Yaks Yak: Animal Word Pairs (Gr. K-4); The One Thing You'd Save (Gr. 3-7) linked poems in an inclusive classroom; and Beast of Stone (Wing & Claw series) (Gr. 3-7). Other books include A Long Walk to Water: Based on a True Story (Gr. 5-8); When My Name was Keoko (Gr. 5-7); The Kite Fighters (Gr. 2-7); Seesaw Girl (3-7); Keeping Score, a novel grappling with loss (Gr. 3-7); The 39 Clues series (Gr. 3-7); and The Third Gift (Gr. 1-4).
Grades 1–8
---