Collision Repair Technology
Program Highlights:

Two-Year NYSED Approved CTE Program

Students learn to repair and refinish collision-damaged vehicles. They learn the fundamentals of metal straightening, MIG-welding, detailing, painting, refinishing and customizing, and working with plastic fillers. Students will gain experience with flexible bumper repair, major collision repair, hardware repair and service. Students study and demonstrate competency in writing collision estimates, managing customer paperwork, and tracking jobs. Interactive and professional communication skills are developed.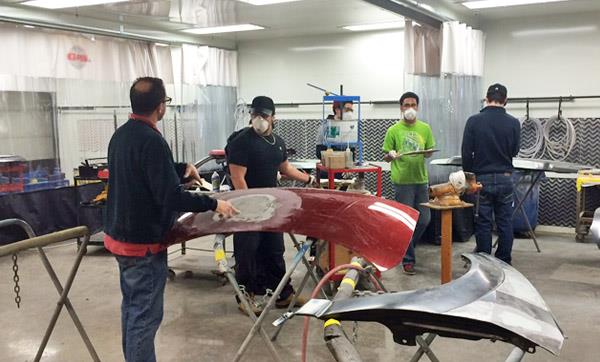 Units of Study
Basic (Year 1)

Safety Procedure & SDS

Communication & Customer Satisfaction

Vehicle Buffing & Detailing

Custom Painting & Air Brushing

Welding for Collision Repair

Auto Plastic Repair: Basic

Body Shop Hand & Power Tools

Automobile Construction

Basic Auto Electrical Circuits

Sheet Metal Straightening & Repair

Refinishing: Color, Sand and Polish

Auto Body Materials & Fasteners

Bolt-on Panel Replacement & Adjustment

Career Opportunities with Shop Layout Design

21st Century Skills




Advanced (Year 2)

Safety Procedure

Vehicle Damage Estimating

Adv. Spray Technique & Blending

GMAW I-Car Destruction Tests

Remove & Install Auto Body Parts

Principles of Sectioning

Bonding & Adhesive Technology

Diagnosing Major Collision

Unibody & Frame Repair Basics

Plastic Repair

Color Matching

How to Start a Career
Industry Based Exam/Certifications
Credit
High School Credit

3.5 CTE a.m./3.0 CTE p.m. (max)
Includes:
1.0 English 12 (Advanced)


1.0 Technical Science (Advanced)




College—Articulation
Connections
Career Connections

Body Shop Manager/Paint Shop Manager/Production Manager

Collision Shop Owner/Entrepreneur

Detailer

Frame/Unibody Technician/Sheet Metal Technician

Insurance Claim Representative

Paint Sales and Distribution/Equipment Sales

Paint Technician

Parts Distribution

21st Century Skills




College Programs

Applied Science in Collision Repair

Automotive Service/Automotive Parts Management

Automotive Technology Management

Classic Car Restoration
Items to Consider
Successful Students:

Follow safety procedures and practice safe work habits at all times

Pay attention to detail to meet core competencies

Work both individually and as a team member

Apply problem solving skills to service procedures

Use fine motor skills; fine-finger dexterity a plus