PC Repair & Network Cabling
Program Highlights:

One-Year NYSED Approved CTE Program

Students perform live customer work through a student-operated simulated computer repair business. This program gives students the knowledge, abilities, and customer relations skills needed for entry-level employment in the field. Students develop individual and team skills as they troubleshoot and solve networking issues. Course expectations require online participation. Networking experience prior to program admission would benefit students.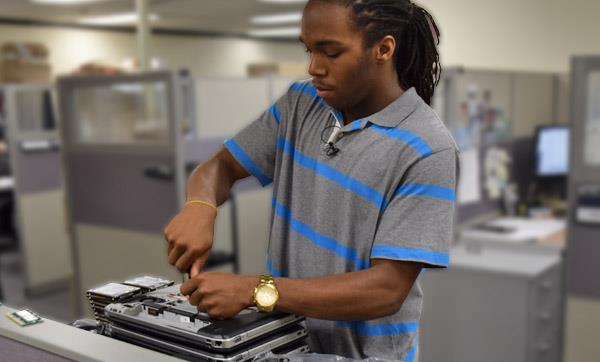 Units of Study
Network Technician

Stand alone 1 year course and highly recommended prior to CISCO Academy

PC Core Service (A+ Certification)

Installation, Repair & Upgrading

Safety & Preventive Maintenance

Customer Satisfaction

Operating Systems (A+ Certification)

Function, Structure, Operation

and File Management

Memory Management

Basic Networking

Networking for PC Repair

Networking Overview (Network+ and CCNA Certifications)

OSI Model and Industry Standards

Network Topologies

Basic Wireless Networking

IP Addressing, Including Subnet Masks

Basic Network Design/Installation
Industry Based Exam/Certifications
CompTIA A+ Certification
Six Sigma Yellow Belt Certification
Precision Exams
Connections
Career Connections

Computer Repair Specialist

Help Desk Technician

Program Analyst

System Analyst/Computer Scientist Trainee




College Programs

Computer Information Systems

Computer Repair Technology

Computer Science

Programming and Systems
Items to Consider
Successful students:

Have a solid foundation in networking prior to program admission

Work online to learn content

Organize/plan for large-scale projects

Work independently and in small and large groups

See a project through from concept development to completion