Automated Manufacturing & Machining
Program Highlights:

Two-Year NYSED Approved CTE Program

This program is recommended for students interested in pursuing a career in the field of industrial or mechanical engineering or to obtain employment in advanced manufacturing, including the optical and photonics industry. Employment opportunity in both disciplines is very good throughout the country.

Students are introduced to the field of precision machining (cutting metal very precisely) through a hands-on approach with machines and cutting tools. A student completing this two-year program will be able to safely set up and operate various machines such as metal cutting lathes, mills, grinders, band saws, and Computer Numerical Controlled (CNC) mills and lathes. Students will also learn print reading, precision measuring, CAD & CAM software and shop math. Students will use precision measuring tools to measure and inspect projects. There are no prerequisites, although a good math background is helpful.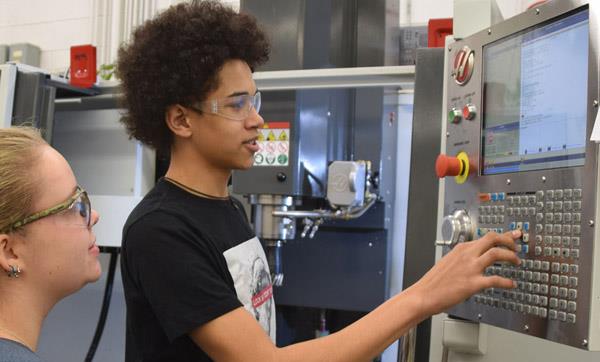 Units of Study
Basic (Year 1)

Safe Shop Practices

Shop Math

Precision Measurement & Inspection Techniques

Basic Milling Machine Use

Engine Lathe Use

Print Reading

Power Cut Off Saws—vertical & horizontal

Drill Presses

Hand Grinding of Cutting Tools

Surface Grinding




Advanced (Year 2)

Computer Aided Design (AutoCAD)

Computer Aided Manufacturing (Mastercam)

CNC Programming

CNC Lathe Operations

CNC Mill Operations (including 4th Axis machining)

Advanced Milling Machine Use

Advanced Print Reading (including GD&T)

Quality Control Techniques
Industry Based Exam/Certifications
Precision Exams
National Institute of Metal Working Skills (NIMS) Certification
Connections
Career Connections

Machinist

Tool Maker

Mold Maker

Machine Builder

Inspector (QA)

Optical Fabricator

Machine Repair Technician

CNC Machine Operator

Set Up or Programmer

New York State Apprenticeship in a certified company




College Programs

Machining

Engineering

Optical Technology Robotics

Business Management
Items to Consider
Successful students:

Maintain excellent attendance

Understand and are able to perform decimal and fraction conversions

Have good eye and hand coordination

Demonstrate time management skills

Wear personal protective equipment (safety glasses) for extended periods

Follow safety procedures and practice safe work habits at all times