Program Highlights:

Two-Year NYSED Approved CTE Program

Students learn about the fast-paced careers of the food service industry. Students gain experience in both front- and back-of-the-house operations. Students begin by developing their knife skills and using appropriate cooking methods for different foods. Opportunity is provided for students to learn safe methods of food handling and storage through the ServSafe program. Initial food production is small scale. Students graduate to planning and production for a class-run restaurant, Three Seasons. Internships with other professionals in the field extend student's learning experience. Students develop both individual and team culinary skills.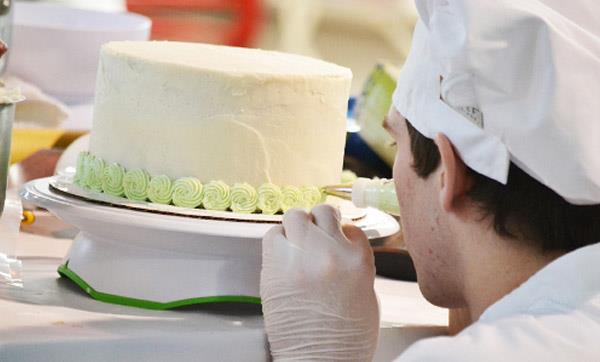 Units of Study
Basic (Year 1)

Baking

Fruits & Vegetables

Salads & Garnishes

Sandwiches & Breakfast Foods

Quick Breads

Meat, Poultry & Seafood

Stock, Soups and Sauces

Pasta, Potatoes and Grains

Yeast Breads

Pies & Cakes

International Foods




Advanced (Year 2)

ServSafe®

Purchasing & Inventory

Cost Control

Global Cuisine

Marketing

Restaurant Production

Portfolio

Restaurant Project

Large Quantity Food Preparation
Industry Based Exams/Certifications
Pro-Start Certification
ServSafe® Certification
Precision Exams
Connections
Career Connections

Dietician

Dining-Room Manager

Executive Chef

Food Production Manager

Food Technologist

Kitchen Assistant

Nutritionist

Pastry Chef/Baker




College Programs

Executive Chef

Food and Beverage Director

Food Management

Food Production Manager

Food Service Administration

Food Technologist

Hotel/Restaurant Management

Nutrition and Dietetics

Sous Chef
Ideas to Consider
Successful students:

Work within the Board of Health regulations

Follow safety procedures and practice safe work habits at all times

Work safely with knives and other potentially dangerous equipment

Work cooperatively within a team

Work long hours on feet in hot and cramped areas

Are physically fit, as foodservice is a strenuous and physically demanding job

Purchase and wear a chef coat, pants and hat (approximately $75 combined cost).