Professional Health Careers
Program Highlights:

Two-Year NYSED Approved CTE Program

Students are provided with an exploratory experience of emerging health occupations. Students study the concept of "Life Cycle" and identify factors contributing to positive personal health. The basic course integrates the NYS High School health curriculum. In the advanced year, students develop the skills to obtain entry level employment in the health care field. This program is also designed to help students enhance their leadership, communication and management skills, and professional behavior is embedded throughout. After successful completion of the program, students will have met the clinical and classroom requirements for the NYS Nursing Assistant exam.

Students participating in this program must meet all medical requirements for working in a health care facility (hospital or nursing home). At this time, this includes being fully vaccinated for COVID-19. Students must show proof of meeting medical requirements by the end of the first week of school in the new school year.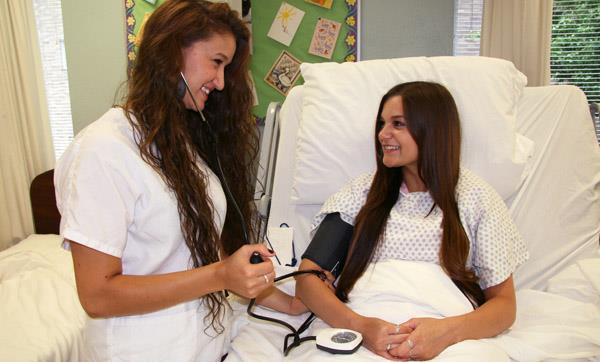 Units of Study
Basic (Year 1)

Intro to Health Occupations

Legal & Ethical Responsibilities

Safety

Leadership & Communication

Personal Health & Wellness

Life Cycle

Microbes & the Environment

The Human Body

Emergency Care

Computer Applications in Health Careers

Clinical Experiences




Advanced (Year 2)

Personal Care

Intro to Nurse Assisting

Lifting, Moving, Transporting

Communicating with Clients

Infection Control

Supervised Clinical Experiences

Elimination Procedures

Human Sexuality

Nutrition & Diet Therapy

Circulatory & Respiratory Care

Pre- and Post-Operative Care

Life Changes & Adaptations

Procedures in the Health Care Facility
Industry Based Exam/Certifications
Nursing Assisting-National Occupational Competency Testing Institute

NYS Nursing Assistant Certification

CPR, First Aid and AED

Precision Exams
Credit
High School Credit

3.5 CTE a.m./3.0 CTE p.m (max)
Includes:
1.0 English 12 (Advanced)
1.0 Technical Science (Advanced)


.5 Health (Basic)




College—Articulation
Connections
Career Connections

Dietician

Emergency Care Specialist

Home Health Aide

Licensed Practical Nurse

Medical Records

Nursing Assistant

Patient Care Technician

Pharmacy Technician

Physician Assistant

Recreational Therapy

Registered Nurse

Transcriptionist




College Programs

Hospital Technician

Medical Technology

Nuclear Medicine Technology

Nurse Practitioner

Nursing

Nutrition and Dietetics

Occupational Therapist

Physical Therapist

Physician Assistant

Pre-dentistry

Pre-medicine

Radiology Technology

Ultrasound
Items to Consider
Successful students:

Have an interest in working in close physical contact with a wide variety of people

Follow Infection Control Procedures and other health care industry standards (safety, hygiene, and ethical standards)

Communicate effectively in a health care facility

Do regularly required academic assignments

Perform hands-on skills in both the classroom and clinical settings under the supervision of a registered nurse

Have the physical abilities required of the career field (mobility, vision etc.)

Purchase and wear a uniform and white leather shoes ($50 or more combined cost).