Program Highlights:

Two-Year NYSED Approved CTE Program

Students learn to repair and maintain a variety of vehicles. They locate mechanical, electronic and computer problems through careful diagnosis and perform the necessary repairs using industry equipment.

Units of study are delivered in four 20-week modules and are aligned with the Automotive Service Excellence (ASE) requirements. Hands-on experience is attained by servicing actual vehicles in an industry-based work environment.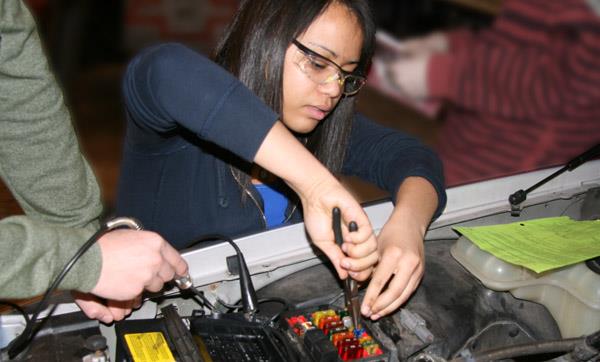 Units of Study
Basic (Year 1)

Automotive Safety and Equipment

Tires and Wheels

Drum, Disc and Parking Brakes

Brake and Hydraulic Systems

Steering Systems

Suspension Systems

Piston Engine Operation

Engine Disassembly/Assembly

Lubrication and Cooling Systems

Electrical and Batteries

Starting, Charging and Ignition Systems


Advanced (Year 2)

Computer Systems

Ignition Systems

Emissions Controls

Customer Relations

Wheel Alignment

Computerized Braking and Steering Systems

Lighting and Accessory Systems

HVAC

Automatic/Manual Transmissions

Basic Drive Layouts

Resume and Portfolio Preparation
Industry Based Exam/Certifications
Automotive Service Excellence (ASE) Student Certification Exams Maintenance and Light Repair, Brakes, Steering and Suspension, Electrical/Electronic Systems and Engine Performance


Connections
Career Connections

Drivability Technician

Heavy Repair Technician

Light Repair Technician

Parts Specialist

Service Manager

Service Writer

Undercar Specialist




College Programs

Automotive Business

Automotive Engineering

Automotive Service

Automotive Technology
Items to Consider
Successful Students:

Follow safety procedures and practice safe work habits at all times;

Use equipment safely;

Work independently on simulated computer program;

Apply problem solving skills to service procedures;

Work individually and as a team member;

Have sufficient physical ability to manipulate hand tools and equipment;

Are willing to get dirty;

Purchase and wear Dickie-type pants ($20 or more) and sturdy work boots ($20 or more).