Study Groups and Workshops
Our Impact on Teaching and Learning

We use data...

We utilize a Needs Assessment to identify the professional learning needs of our internal BUP and BPA instructional staff. The Assessment is analyzed by the Office of Curriculum, Instruction and PD for the highest priorities. We compare our highest priority needs to NYS and Monroe One goals and initiatives to select foci for professional learning.

All of our study groups and workshops use multiple evaluation methods to assess the impact on educator and student learning. Study groups utilize both pre, post and overall evaluation measures, as well as student data collection. Workshops utlize participant surveys and interviews. The data collected is analyzed by the Teacher Center Director and Policy Board and used to inform decisions regarding next steps and learning opportunities.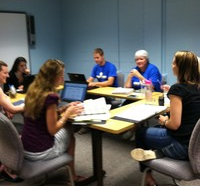 What We Offer

Our study groups and workshops align to current best practices in education and special education. Common learning foci include;

Standards Analysis

Student Behavior/Social Emotional Learning

Best Practices in Instruction/Pedagogy

Mindfulness/Wellness

Coaching

Instructional Technology

Accommodations and Modifications for SWD

Speech Therapy and Motor

American Sign Language and Deaf Education