Transportation Services


Monroe #1 BOCES Transportation Services transports students with disabilities, vocational education students, district students with special needs, and adult literacy students throughout Monroe County. The emphasis of this service is to provide safe, dependable, cost-efficient transportation while meeting the unique needs of each student.

Transportation Services supports three main goals:

Respond to transportation requests from school districts and BOCES within a three-day time period;
Provide comprehensive and ongoing staff development for drivers and attendants;
Provide a fleet of vehicles that meets safety standards for students with disabilities.

The service focuses on major areas that make it a leader in providing safe, personalized, cost-effective transportation for the population it serves.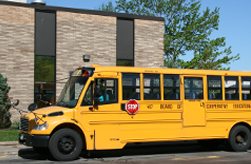 Contact Us
Transportation Services

(585) 383-2242