Details
To place an order, please call Kellie Geiger at 585-249-7230.


Advance notice of 48 hours is requested for catering orders. Please call Kellie if you need a catering order on short notice.


48 hour cancellation notice is requested.


All caterings include paper products.


We have a wide variety. Please email Kellie Geiger for a list of catering items.
Additional Charges
Catering delivered prior to 7:30 am and after 2:00 pm and on non-school days will incur a labor charge.


Off site (non Foreman Center & Bird/Morgan) locations will incur a delivery charge.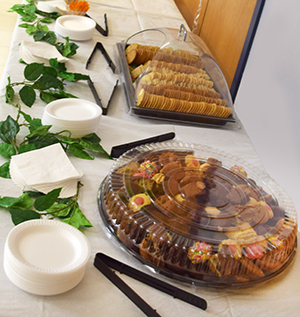 Location
Café Catering is located at 41 O'Connor Road, Fairport, NY 14450.