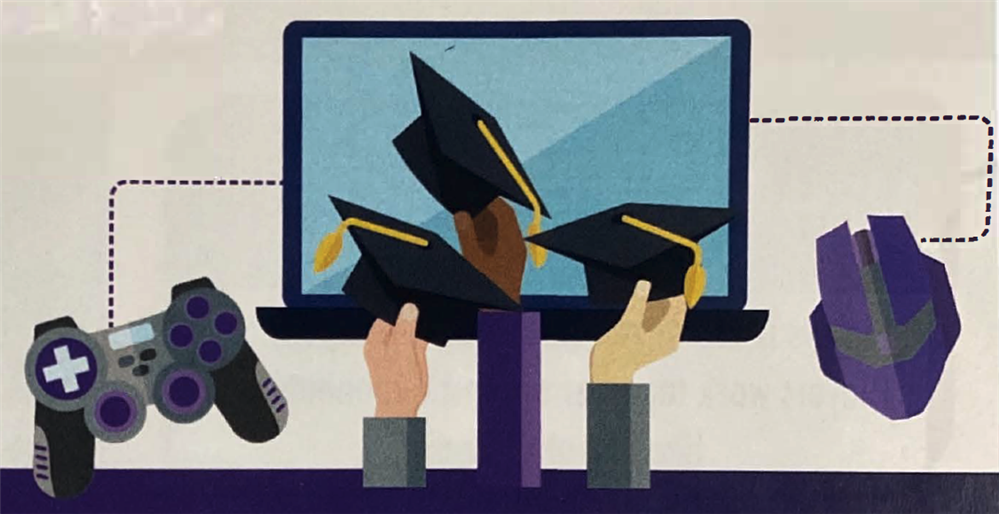 Bringing Gaming to the Classroom
Already downloaded 300,000 times in over 40 countries through the Mincrosoft Educuator Community, Gaming Concepts is the gold standard for integrating video game play into schools. The engaging three-course STEM.org approved Gaming Concepts series integrates Esports with social-emotional learning, digital citizenship and college and career readiness.

Benefits:

Scholastic
Competitive
Social

Gaming Concepts courses improve academic performance and attendance, while equipping students with a digital framework that prepares them for careers in the science, technology, engineering and mathematics (STEM) career fields. Deliverable through an easy-to-follow text or online learning management system, Gaming Concepts is exactly what new-to and veteran Esports teachers need to integrate scholastic, social and competitive gaming into their schools.

Contact Doreen Pietrantoni or Barry DeSain for costs.
Currently Available:

Gaming Concepts: Fundamentals

This course helps provide students a digital framework through an esports lens. Students will explore the history of esports, learn genres of games, practice good gamer health, learn basic technology information and hands-on troubleshooting, explore college and career readiness with a technology focus, engage in digital citizenship, preventative mental health, teamwork, journaling and reflection.

Gaming Concepts: Exploring Interactive Media and Esports Topics

This is a project-based course that allows students to view and create digital media through an esports lens. Students will creatively express themselves through hands-on experiences with digital graphics, print media, computer animation, audioproduction, video production, web design and other newly-emerging forms of digital media. Using industry standard tools and techniques, students will create digital media projects while learning to facilitate meetings, serve as team leaders,manage project timelines, give and receive constructive criticism, and produce professional products. Reflective journaling, media literacy and ethics, as well as embedded social emotional learning also enhance the course and contribute to student mental health.

Gaming Concepts: Middle School Exploring Life Skills Through Scholastic Gaming

This course uses esports as the engagement piece to teach students executive function skills that will help make their transition to high school more successful. Lessons focus on organization, perseverance, self-advocacy, self-regulation,time management, responsible decision making, digital citizenship, and social emotional learning that are often difficult to teach in an authentic, engaging way through traditional middle school coursework. Evidence-based Mental HealthMoments, proven to increase student mental health, are also naturally embedded in lessons.

Gaming Concepts: Streaming

Aligned with national broadcasting standards, Gaming Concepts: Shoutcasting helps students who didn't think they had an interest in journalism to view this career field from a whole new perspective. Gaming Concepts: Shoutcasting teaches the fundamentals of broadcast journalism through the lens of a shoutcaster. Not only is shoutcasting a fast-growing career field, but the skills learned easily align with the Arts, A/V Technology, and Communications cluster CTE alignment.Lessons focus on an overview of shoutcasting and how it aligns with broadcasting, careers in shoutcasting and how to attain them, story writing and interviewing, the technical and equipment aspect of the career, media's influence on society,developing and producing a complete broadcast, and the economic factors that influence the business.

Gaming Concepts: Shoutcasting

Gaming Concepts: Streaming takes the pain out of Public Speaking classes. Aligned to national speaking and listening standards, the course takes students out from behind the podium and makes them the creators of the action. Similar to a traditional Public Speaking course, Gaming Concepts: Streaming teaches students how to initiate and participate in collaborative discussions, respond thoughtfully to diverse perspectives, evaluate a speaker's point of view, research and integrate multiple sources of information into a presentation, utilize digital media in presentations and much more.

Fall 2023 - Gaming Concepts: Cybersecurity

Contact Barry Desain or Doreen Pietrantoni for costs.