Peter Brown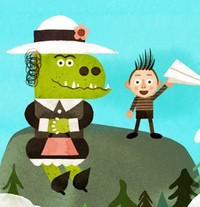 $5,000/3 presentations; $4,500 if book sale included, (includes travel + hotel expenses), with a 3-day minimum to visit.
Virtual visits are $900 per presentation.
Picture book author and illustrator. Peter's presentations discuss drawing and writing as a child, reading his early work, steps in becoming a professional, writing and drawing his current books, including Creepy Carrots (K-5), and sharing stories behind their creation, with a quick drawing lesson. His works include The Wild Robot Escapes; and The Wild Robot (Gr. 3-7); ALA Notable Book, My Teacher is a Monster! (No, I am Not.) (Pre-K-3); plus New York Times best-sellers Mr. Tiger Goes Wild (Pre-K-2); Fred Gets Dressed, and Children Make Terrible Pets (starring Lucille Beatrice Bear (Pre-K-1); plus The Curious Garden; and You Will Be My Friend! (Pre-K-2).
Grades Pre-K–7
Booked for April 12-13, 2023.
---