James Preller
$2,000/day, all-inclusive.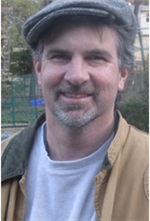 Virtual visits vary, starting at $200 (30 minutes) to $1,200 (depending on the needs of the school).
New York State author of The Big Idea Gang series (Gr. 1-4) on making a positive difference; several new Jigsaw Jones mystery books, and Fairy House, choose your own adventure books (Gr. 1-3+); Mighty Casey (K-3), his twist on the classic poem, "Casey at the Bat;" and Exit 13 series: The Spaces in Between (Gr. 3-7). His middle school life books include anti-bullying themed The Bystander (Gr. 5-8), and a new sequel, Upstander; The Courage Test (Gr. 4-7), an ALA Notable Book; The Fall (Gr. 6-9); and Better Off Undead (Gr. 4-8). Also, Blood Mountain, a middle grade survival story, and a picture book of haiku, All Welcome Here illustrated by Mary GrandPre (of Harry Potter fame), celebrating community on the first day of school.
Grades K-10
Participating in the Rochester Children's Book Festival, November 4, 2023
---