Charles Waters
$750 per 45-minutes for 1-2 presentations; $500 per to add presentations 3-4, plus expenses. Costs may vary if Irene Latham is included.
Virtual visits are $300 for 30-minutes, or $450 for a 45-minute presentation and Q&A.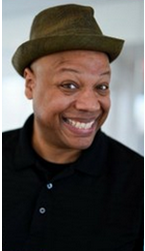 Poet and educator, Charles' workshops help students build confidence. Core Class 1 – Writing Exercises (Scribble Away!) using metaphors and similes, plus haikus and senryus. Students create poems learning about structure, point of view and tone analysis. Core Class 3 – Performance Points (From the Page to the Stage!) identifies traits of an effective performance, voice projection and connecting to your audience, using the poem "When I See Your Face."
He has co-written with Irene Latham, new release African Town (Gr 7+), historical fiction-in-verse of the last ship of enslaved Africans; Dictionary for a Better World: Poems, Quotes, and Anecdotes from A to Z for middle grade readers; Can I Touch Your Hair: Poems of Race, Mistakes and Friendship (Gr. 3-7), and anthologies, including One Minute Till Bedtime.
Elementary through High School
---