A.S. King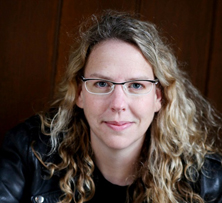 Her rate has been $2,500+/day, plus hotel during Teen Book Festival.
$3,500+/day, plus expenses outside of Festival week.
Virtual visits are $200+.
Acclaimed author of young adult novels and short stories. A compelling speaker, her presentations center around life skills, bullying, self-esteem, and safe relationships. Her works include Attack of the Black Rectangles (Gr. 4-7) a novel on censorship and intolerance; Switch, on the effects of isolation; Dig; The Dust of 100 Dogs; Still Life with Tornado (Gr. 9+); surrealist I Crawl Through It; Everybody Sees the Ants; Reality Boy; Walden Award winner Glory O'Brien's History of the Future (Gr 9+); Los Angeles Times Book Prize winner Ask the Passengers (Gr. 10+); and Michael L. Printz Honor Book Please Ignore Vera Dietz; plus new middle-grade novel The Year We Fell From Space; and Me and Marvin Gardens (Gr. 3-7).
Grades 3–7, 9–12
---